TMF Christmas Reception at Rothschild & Co.
We were delighted to see a record number of Mentors, Mentees, Alumnae and friends of the Foundation at our annual Christmas Reception, which was kindly hosted for us this year by Mr Nigel Higgins, then Deputy Chairman, Rothschild & Co (left).
The event took place on Monday 10th December, in the stunning surroundings of the Sky Pavilion on the top floor of Rothschild's premises in St Swithin's Lane, with a breathtaking view of the London skyline.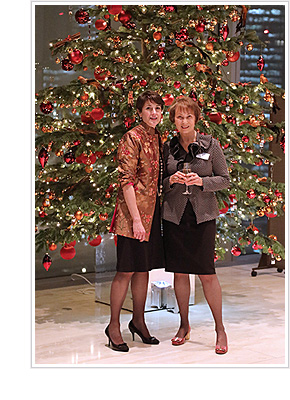 Right: Ms Monica Burch, Chair & Ms Peninah Thomson OBE, CEO, The Mentoring Foundation
Our keynote speaker was Sir Philip Hampton, Chair, GlaxoSmithKline plc and Chair, The Hampton-Alexander Review, who updated us on the progress being made by women at the top levels of UK corporate leadership, while also highlighting some of the challenges that remain.
We were also delighted to be joined by Ms Helen Watson, CEO, Rothschild Wealth Management UK, who is a current Mentee and who shared with us her own perspective on the FTSE Programme. Helen's Mentor is Mr Jan du Plessis, Chairman, BT Group, who was at one point last year the Chairman of two FTSE 100 companies. Helen spoke of her appreciation that despite the heavy pressure on his time, Jan had sustained his mentoring commitment to her.
Nigel Higgins – who has been a Mentor on the Executive Programme for nearly a year and is extremely supportive of the work we do – gave a short speech, and we also heard from his Mentee, Ms Leena Nair, Chief HR Officer, Unilever plc (left). Together, they gave an insight into how they have built a warm, open and productive mentoring relationship.