The 2019 Colloquium of the FTSE Programmes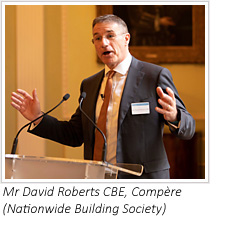 In October 2019 we were honoured to be able to convene, in the historic Court Room of the Bank of England, a gathering of 130 Mentors, Mentees, Alumnae and friends for the annual Colloquium of the FTSE 100® Cross-Company Mentoring Programmes.
We were hosted by Ms Joanna Place, Chief Operating Officer, Bank of England, and heard from 22 distinguished business leaders across three fascinating panel discussions and keynote speeches.


The panels dealt in turn with:
some of the challenges, or 'disruptors', currently facing business in the UK;

the opportunities for the UK; and,

how some of the UK's leading companies are managing talent to seize the opportunities.


We were also extremely pleased to welcome two keynote speakers, with Sir Philip Hampton, former Chair, GSK plc, and Chair, Hampton-Alexander Review, talking about: 'Helping able women optimise their potential: signs of progress (and some concerns)', and Ms Ruth Cairnie, Chair, Babcock International Group plc, speaking on: 'How on earth did I get to be Chair of a large British industrial company?'.


We have been delighted with the positive feedback that we have received for what was undoubtedly our most ambitious, wide-ranging and thought-provoking Colloquium to date. I am extremely grateful to all of our speakers, who participated in lively discussion and ensured the event was a great success.