Sixth Annual Colloquium on FTSE® 100 Cross-Company Mentoring Programmes, hosted by The Inner Temple
On Thursday 2nd October 2014, more than 130 Chairs, Mentors, Mentees, Alumnae and other supporters of the Programme gathered for the 2014 Colloquium in the wonderful setting of Inner Temple. They came to meet each other and participate in a discussion on the evolving questions around securing better representation of women at the highest level in UK organisations. The central question was to examine developing and sustaining the pipeline of talented women in the UK.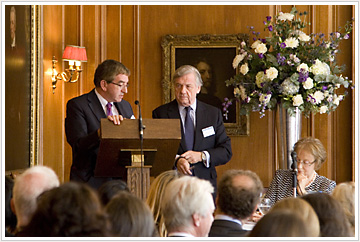 We were delighted that Sir Michael Rake, Chair, BT Group plc and President of the CBI chaired the event and spoke at the outset about the challenges currently facing British businesses and how greater diversity is part of the solution. The Rt. Hon. Lady Justice Hallett DBE, the fifth woman to sit as judge in the Court of Appeal and a Bencher of The Inner Temple, opened the morning's proceedings with a candid overview of the position in the legal profession.
Niall FitzGerald KBE, Chair of the Leverhulme Trust and member of the Advisory Council of the Foundation, spoke with his Mentee Sharon White, the then Second Permanent Secretary to HM Treasury (now Chief Executive Officer, OFCOM) about their experience of working together on the Executive Programme as a mentoring pair.
Alison Horner, Group Personnel Director of Tesco plc, alumna of the Executive Programme and now Mentor on the Next Generation Women Leaders Programme, joined her Mentee, Abi Caldwell of the Bank of England and Victoria Tillbrook of PwC to talk about their experiences as members of the first cohort on the Next Generation Programme.
The Lord Davies of Abersoch CBE both entertained and informed us with his forward-thinking views on how businesses need to adapt their cultures to become generally more inclusive if they want to be relevant to the next generations. António Horta-Osório, Chief Executive Officer of Lloyds Banking Group plc made a keynote address on the bank's "40% by 2020" initiative.
During her speech Charlotte Hogg, Chief Operating Officer, Bank of England, made some fascinating observations on how she feels certain behaviours may cause women to be held back in their career development. Nigel Wilson, Group CEO of Legal & General Group plc discussed L&G's initiatives to improve gender diversity to 50/50 by 2020. The new venue for the Colloquium, at Inner Temple, was a great success and – as can be seen from the photographs – provided an historic but also relaxed setting for a fantastic mixture of panel sessions and networking.

Our panel of leading speakers included:

• Sir Mike Rake, Chair BT, President CBI
• The Rt Hon. Lady Justice Hallett DBE
• The Lord Davies of Abersoch CBE
• Niall FitzGerald KBE, Chair Leverhulme Trust
• Ms Sharon White, Second Permanent Secretary, HM Treasury
• Mr António Horta-Osório, Group Chief Executive, Lloyds Banking Group plc
• Ms Charlotte Hogg, Chief Operating Officer, Bank of England
• Dr Nigel Wilson, Chief Executive Officer, Legal & General Group plc
• Ms Alison Horner, Group Personnel Director, Tesco plc
• Ms Victoria Tillbrook, Director, Business Recovery Services, PwC LLP
• Ms Abigail Caldwell, Manager, Prudential Regulation Authority, Bank of England
• Ms Peninah Thomson OBE, Chief Executive, The Mentoring Foundation


Quotes from Speakers
The Rt. Hon. Lady Justice Hallett DBE:
"We won't deal with the core issue of improving gender balance at the top of our organisations until we deal with the problem of work balance. Spending more time with the family should be an aim for all. Today, the Bar imposes frenetic requirements and women vote with their feet."


Ms Sharon White:

"In my nearly 25 years of training and development in the civil service, the last 18 months working with Niall have been the most precious, the most interesting and the most challenging. Niall shifted my way of thinking; we had different sorts of conversations."




Niall FitzGerald KBE:
"Mentoring is an art form – it needs to be tailored to the individual. Sharon and I talk about executive leadership: authenticity; leading without compromising and managing upwards. We talk about networking and how hers needed to be deeper, wider, different. We talk about life balance and her goals for 10 years from now."

The Lord Davies of Abersoch CBE:

"Discussions of Venus and Mars are now generational. The new generation Y/Z is omni-channel. CEOs of todays' businesses need to get it or they won't be around in 20 years. For women, the next challenge is the pipeline and women's representation on Executive Committees. The biggest question is work-life balance. Culture is critical. We need to start by knowing ourselves – compensate for your own weaknesses through your choice of team. We can learn a lot from the sporting world. Sports coaches apply science and psychology. Business needs to do the same. We need to promote an open, argumentative, self-critical culture."

António Horta Osório:
"There's an important role for role models and coaching. We know that sharing the career journeys and experiences of colleagues at all levels in the organisation can have a very powerful impact. For example, it may encourage women to apply for roles that they might have previously perceived as being incompatible with family life. And it might encourage women to apply for roles where they don't necessarily have every one of the elements on the person specification."


Photo Gallery:
Photography by Robbies


Ms Sharon White

The Lord Davies of Abersoch CBE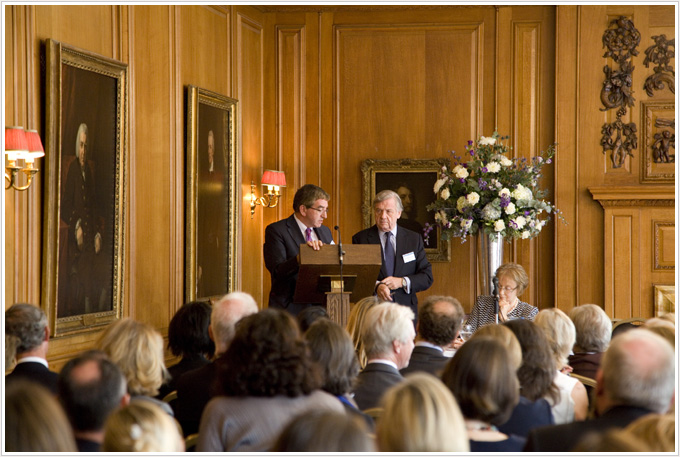 Niall FitzGerald KBE, Sir Michael Rake

Ms Louise Hosking, Mr Andrew Beeson

The Rt Hon. Lady Justice Hallett DBE, Sir John Sawers, Mr Simon Davies

Ms Elizabeth Lee, Ms Lorraine Heggessey

Ms Lizzie Rowlands, Ms Carolyn Bradley

Mr Marcus Agius, Ms Peninah Thomson, Ms Janet Pope, Mr António Horta-Osório

Ms Peninah Thomson, Ms Victoria Tillbrook, Ms Alison Horner, Ms Abi Caldwell

Ms Charlotte Hogg

Mr Nigel Wilson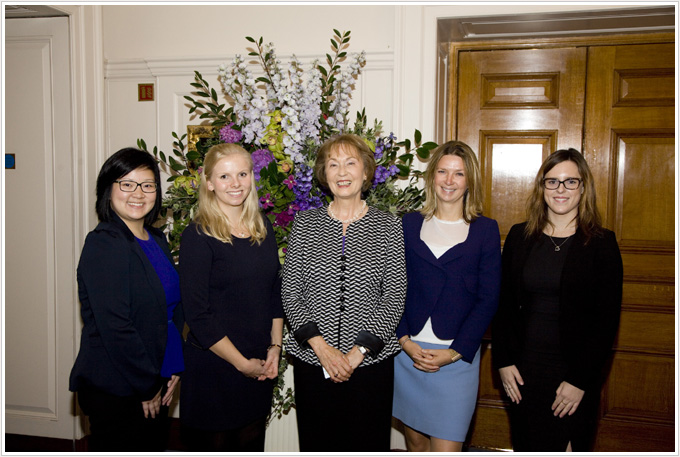 TMF Team