Party to Celebrate the Launch of our Fifth Book at The Reform Club
160 guests including 20 of the Foundation's Chair Mentors, as well as Mentees, Alumnae, other supporters of the Foundation's work and friends and family, gathered in the historic setting of The Reform Club library to celebrate the launch of the latest book by Peninah Thomson and Clare Laurent with Tom Lloyd, The Rise of the Female Executive: How Women's Leadership is Accelerating Cultural Change.
Guests mingled over drinks and canapés and were briefly addressed by Executive Programme Mentors including Monica Burch, Senior Partner, Addleshaw Goddard and Chair of The Mentoring Foundation Board, Sir Win Bischoff, Chair of the FRC, David Cruickshank, Global Chair of Deloitte and Sir Philip Hampton, Chair of GlaxoSmithKline as well as Peninah Thomson OBE, Chief Executive of The Mentoring Foundation. The speakers reviewed the contribution of the Foundation to the progress being made in increasing diversity, and the relevance of the book to the next phase of achieving better diversity across UK organisations, focusing on building and sustaining the executive pipeline.
Peninah Thomson, Chief Executive, The Mentoring Foundation and Sir Philip Hampton, Chair, GlaxoSmithKline plc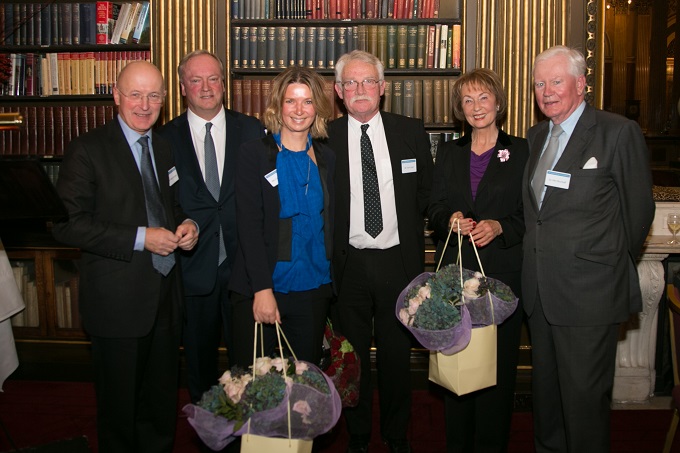 Sir Philip Hampton, Chair, GlaxoSmithKline plc, David Cruickshank, Global Chair, Deloitte LLP and
Sir Win Bischoff, Chair, Financial Reporting Council with Peninah Thomson, Clare Laurent and Tom Lloyd

Members of Cohort 1, together with Alison Horner, Group Personnel Director, Tesco plc