2017 Colloquium of the FTSE Programmes
The 2017 Colloquium of the FTSE 100® Cross-Company Mentoring Programmes took place at the Honourable Society of the Inner Temple on Tuesday 9th May. 150 guests were in attendance, which was the largest audience we have ever had at a Colloquium! Niall FitzGerald KBE DSA, Chair, The Leverhulme Trust, chaired the event, and alumna Ms Sharon White, Chief Executive, Ofcom, was our keynote speaker, telling us about her leadership role and some of the issues with which she is dealing. We were then joined by Sir Philip Hampton, Chair, GlaxoSmithKline plc and Chair, Hampton-Alexander Review, who updated us on the work of the review, and invited us all to share our own personal experiences and anecdotes with him and Dame Helen Alexander as the Review continues.
Cohort 3 of the Next Generation Women Leaders Programme gave a presentation on HSBC's "Gratitude Project" and the impact of the project on their learning as Mentees on the NGWL Programme. Research Paper 5: "Cohort 3 and the 'Gratitude Project'" was distributed, detailing the findings of HSBC's research and Cohort 3′s work on it in further detail.
Next, group leaders from The Queen's Gallery Group spoke on a panel about the outcomes of their last meeting at Buckingham Palace, and how the thinking has been taken forward on the various 'themes' that they are examining. Research Paper 6: "Developing and Sustaining the Pipeline of Talented Women in the UK (Part 2): Taking the thinking forward" was distributed, outlining in further detail the insights being delivered by The Queen's Gallery Group.
Finally, a panel of Chair Mentors, including Mr Andrew Higginson, Chair, Wm Morrison plc and Mr David Roberts CBE, Chair, Nationwide Building Society, discussed the implications of Brexit for the companies they chair with Ms Carolyn Fairbairn, Director-General, Confederation of British Industry. Carolyn has described Brexit as the most significant political issue of our time, and we heard how business leaders are being encouraged to work with government to use Brexit as a catalyst for change in the areas of skills, infrastructure and innovation.
Sharon White, CEO, Ofcom
Members of Cohort 3 discussing the HSBC "Gratitude Project"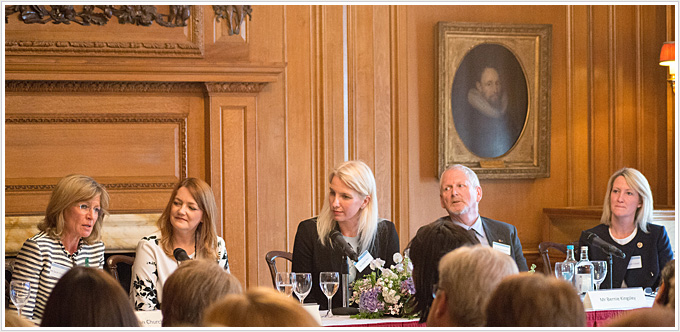 Theme leaders, The Queen's Gallery Group
Niall FitzGerald, Carolyn Fairbairn, Andrew Higginson and David Roberts CBE discussing Brexit